Do you like mysteries?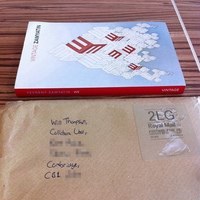 On 12th September 2011, I received a paperback copy of We by Yevgeny Ivanovich Zamyatin. It was posted to me at work, in a brown envelope unmarked besides the address and the stamp (and 15p written on one corner in pencil), and contained nothing besides the book. No note from the sender, no inscription, nothing.
The book is a 2007 paperback; it looks second-hand, but is in excellent condition. I asked a few likely friends if they'd sent it (they hadn't), tweeted gratefully, and got on with my day, looking forward to reading it soon. But later, my IRC client lit up:
| | |
| --- | --- |
| sumanah: | in 2004, I also received an unmarked copy of Zamyatin's "We" via mail. |
Sumana received a used 1952 paperback, similarly packaged, sent from New Orleans to her work address; she never figured out who the sender was. We feel like it's too much of a coincidence for these two events to be unconnected—even seven years later—but have no idea who the sender(s) could be, why they're sending out copies of this novel, and how they choose their recipients. (I didn't know Sumana in 2004; we've only been friends—and sometime colleagues—for a couple of years.)
Stamp decoding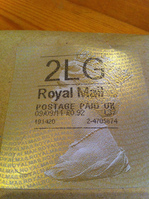 The stamp-like label on the envelope is a Machin label—after the artist who drew the queen's head—and the codes on it are as follows:
L37 is a postcode, indicating the book was posted from Formby. (I can't think of anyone who's been there of late, let alone who would send this book anonymously from there.)
2 means "the second machine in the shop".
4705874 is the transaction number.
191420 is a post office identifier. There doesn't seem to be a full, public list of these. Here's a partial list. Does anyone have access to a list which could tell us which post office this was, exactly?
Thanks to Thomas Thurman and others for help deciphering this!
You too, huh?
Have you, too, received a copy of We in the post? Or do you have any idea who might be sending them? Get in touch by mail or Twitter, if so.